Joe and Deva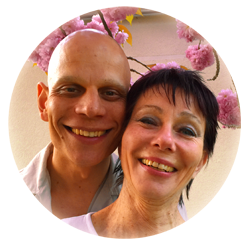 Joe and Deva form a young couple of 8 years of age, they live a joyful and serene relationship rich in their respective paths and their love. They intentionally seek an intimate and deep contact with each other to identify their fears and build a daily relationship on a physical, emotional and spiritual level that supports them in their quest for broadening of consciousness and deconditioning. Over time, they naturally felt the urge to work together to share their experience of conscious love on the tantra path.
Deva is a sex therapist and has been leading tantra and tantric massage workshops and courses open to all and groups of women for ten years in France. Throughout her life path, she encountered Hatha Yoga, Sahaj Marg meditation, clinical psychology, tantra, massage and finally sex therapy. She made many trips to India. She considers herself a passionate and curious researcher of tantra, its philosophy and its different practices.
Joe was born and raised in Montreal, he stays there regularly. He is passionate about massages. Throughout his individual or group therapies and his work as a trainer, he has acquired great sensitivity and empathy. His gentleness and his listening bring in his co-animation with Deva a humanist and humble note which allows each and everyone to feel safe in the proposals made during the courses or workshops.
Both complement each other, work together and offer a tonic, joyful and yet profound tantra in which they invest wholeheartedly and rigorously. Being in a couple is precious for their animation because they are consistent with what they offer: the exploration of all possible expressions of vital energy beyond differences and conditioning.
"The highest human love reflects divine love." Rumi
For couples, tantra offers an opportunity to deepen, nourish and transform the romantic relationship into consciousness. Individually, it is a chance to grow, to connect with oneself and with life.
Massages in individual or couple sessions on request.
Elise Martin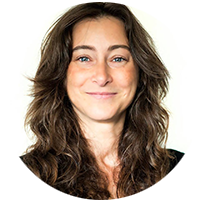 Elise is a Life Coach, certified in NLP, massage therapist and Reiki master. In addition to her coaching activities, she regularly leads women's circles. She will co-host the women's course with Deva.