Joe et Deva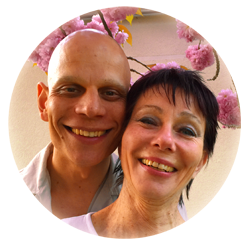 Joe and Deva, a eight-year-old couple, have a joyful, serene relationship enriched by their respective life paths and their love.  They intentionally explore a deep, intimate connection where they identify their fears and build, day by day, a physical, emotional and spiritual relationship that supports their quest to expand their awareness and free themselves from conditioning.  They naturally felt the desire to work together and share their experience of conscious love on the tantric path.
Deva is a sexologist.  She has been leading workshops in tantra, tantric massage and women's tantra for the past ten years in France.  She has been trained in Hatha yoga, clinical psychology, tantra, massage and sexology.  She has made numerous stays in India and is a passionate researcher of tantra, its philosophy and its different practices.
Joe was born and raised in Montréal and returns there regularly.  He is passionate about massage. Through his therapeutic experiences — individual, in groups and as a facilitator —he has developed a fine-tuned sensitivity and empathy.  His gentleness and ability to listen bring to the workshops he co-facilitates with Deva a humble, humanist note that sets participants at ease and makes them feel safe to take part in the proposed activities.
As facilitators, they complement each each other and work in tandem to offer dynamic and joyful tantric workshops that go deep.  Their conscientious transmission of tantra is resolutely heart-centred.  Their relationship as a couple is essential to the work they offer participants: the exploration of all possible expressions of vital energy, beyond differences and societal conditionings.
"The most elevated human love reflects divine love". Rumi
For couples, tantra offers an opportunity to deepen, nourish and transform the amorous relationship through awareness.  For those who are single, it is a chance to grow and reconnect with oneself and life.
Individual or couples massages upon request
Elise Martin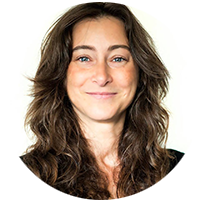 Elise is a Life Coach, NLP certified, she is also massage therapist and Reiki master. On top of her lifecoach activities, she offers healing circles for women. She will co-lead the tantra women workshop.